Canada has produced some of the best tech stocks recently. Over the years, the Canadian technology sector has produced great success stories: Shopify (SHOP.TO) and Lightspeed (LSPD.TO) saw their stock price skyrocketing during the pandemic.
With rising interest rates and the risk of a recession, investors became concerned about the lack of profit, and the entire sector plummeted in 2022. This year alone, Shopify lost more than 70% of its value, and Lightspeed isn't far behind, with 50% of its value lost since January.  Let's just say they are a little less stable than Canadian REITs 😉
Is there hope for Canadian tech stocks? There are several excellent companies in this sector, and we will discuss the best opportunities at the end of this article.
But first, why would you invest in Canadian tech stocks anyway?
Why Canadian Tech Stocks? Which ones are the Best?
There are dozens of giant American technology companies, such as Apple, Microsoft, and Alphabet (Google). Can you name one Canadian tech companies that can compete with the best?
Out of the 41 tech companies in Canada, there are only 6 of them with a market capitalization above $10 billion:
Shopify Inc: $61B.
Constellation Software Inc: $46B.
CGI Inc: $26.5B.
Open Text Corp: $13.7B.
Ceridian HCM Holding Inc: $13.4B.
TELUS International (Cda) Inc: $10.6B.
Investing in small capitalizations will add volatility to your portfolio. However, it also improves your chances of finding a stock that could show triple-digit returns. Over the past 3 years, we count 8 companies showing more than 100% total returns:
Converge Technology Solutions Corp: 619.6%
Maxar Technologies Inc: 309.9%
Tecsys Inc: 192.2%
MediaValet Inc: 182.2%
Sierra Wireless Inc: 175.1%
Vecima Networks Inc: 114.2%
Kinaxis Inc: 110.1%
The Descartes Systems Group Inc: 103.1%
Now that this sector dropped significantly in 2022, it's time to look for some bargains!
Top 4 Canadian Tech Stocks for September 2022
We have gone through the entire list of tech stocks in Canada to find the best companies (you can find the complete list at the end of this article). To identify our top 4, we considered their business model, growth vectors, and ability to generate recurring revenue. Here are the best Canadian Tech Stocks for September 2022 in no particular order.
Sylogist (SYZ.TO)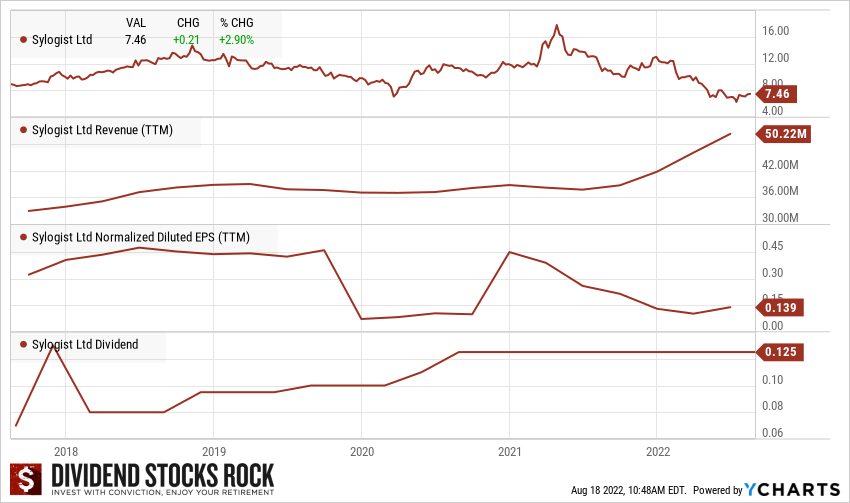 Yield: 6.90%
Market Cap: $178M
Industry: Software Application
Sylogist Ltd. is a software company that provides enterprise resource planning (ERP) solutions, including fund accounting, grant management and payroll to public service organizations. The Company operates through Public Sector segment.
Investment Thesis
Who doesn't like a company offering overall improvements in business processes, quality, and systems control through their services? Sylogist exhibits a strong model of growth by acquisition and has almost no debt! It also offers a surprisingly strong yield for a small high-tech stock. Through their Enterprise Resource Planning (ERP) solutions, SYZ can help both public and private companies manage their intellectual property. Knowing how to manage data is crucial for businesses, so SYZ is at the right place at the right time. We like their customer diversification and their appetite for making acquisitions, coming from their new CEO. One of the major downsides of a company like this is that small caps can be quite volatile on the market. For that reason, investors should proceed with caution, or buy the stock and forget about the transaction for a while. Please note that EPS has been affected by a one-time executive compensation change in 2020 and 2021.
Constellation Software (CSU.TO)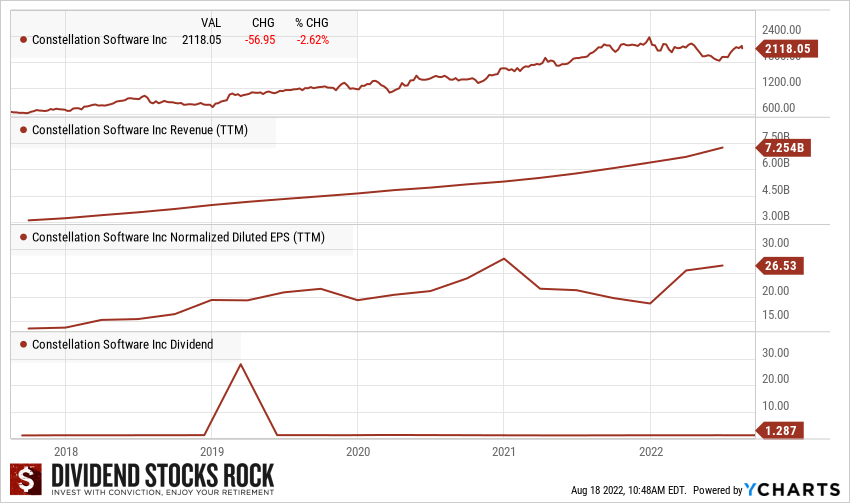 Yield: 0.24%
Market Cap: $44.9M
Industry: Software Application
Constellation Software Inc is a Canada-based company that develops and customizes software for public- and private-sector markets. The firm acquires, manages, and builds vertical-specific businesses. Its operations are organized in two segments: Public Sector and Private Sector. The portfolio companies serve various markets including communications, credit unions, beverage distribution, tour operators, auto clubs, textiles and apparel, hospitality, and community care. The firm has operations in North America, Europe, Australia, South America, and Africa.
Investment Thesis
You won't buy CSU for its yield, but you will buy this strong Canadian tech stock for its growth potential. Constellation Software has developed a unique growth by acquisition strategy. The company focuses on acquiring small niche tech companies or companies in the vertical market software industry. They now operate hundreds of companies in a decentralized way. Constellation is the ultimate growth machine!
Telus International (TIXT.TO)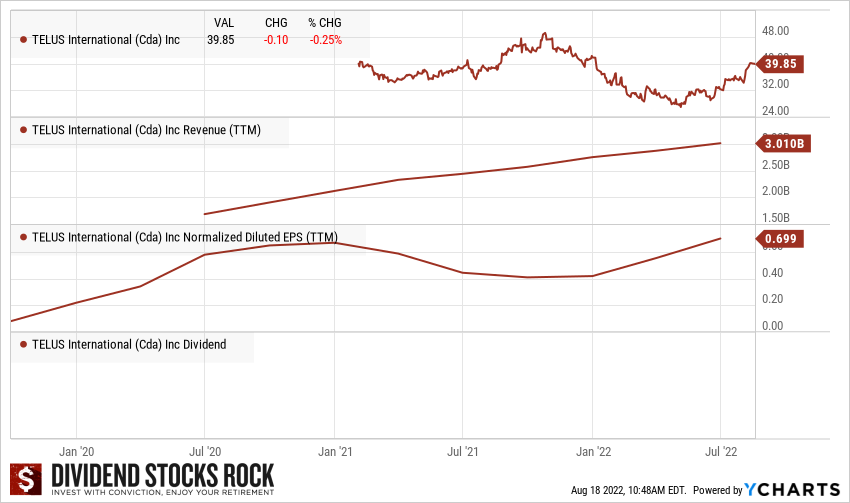 Yield: 0%
Market Cap: $10.6M
Industry: Software Infrastructure
TELUS International (Cda) Inc is a digital customer experience innovator that designs, builds, and delivers next-generation solutions. Its clients include companies across several verticals, including Tech and Games, Communications and Media, eCommerce and FinTech, Healthcare and Travel and Hospitality. The solutions offered by the company include Digital Experience, Customer Experience, Advisory services, and Back Office and Automation among other services. Geographically, it derives a majority of revenue from the Philippines.
Investment Thesis
TELUS International is a spin-off company from Telus, the wireless company. Its focus on new technology and artificial intelligence opens the doors to a lot of growth in the future. We like TIXT's geographic and service diversification. Being present in so many industries worldwide ensures a more stable business model. Revenues are expected to grow double-digit in the coming years.
Tecsys (TCS.TO)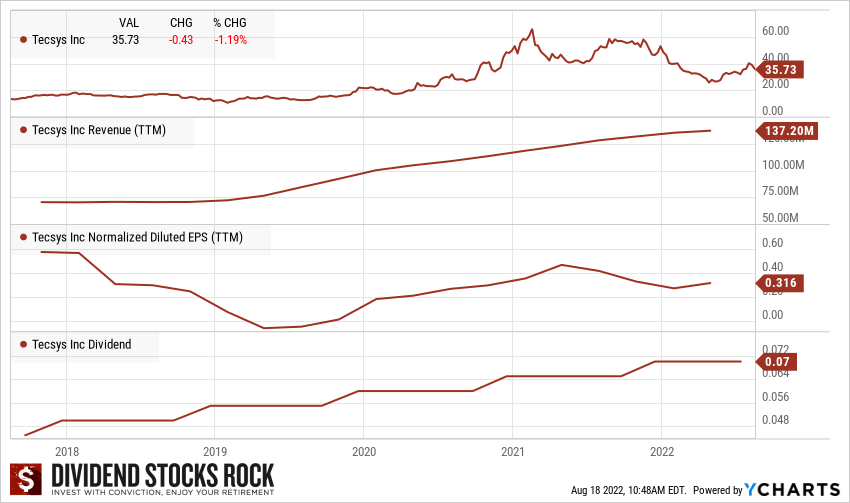 Yield: 0.77%
Market Cap: $520.3M
Industry: Software Application
Tecsys Inc is engaged in the development and sale of enterprise supply chain management software for distribution, warehousing, transportation logistics, point-of-use and order management. It also provides related consulting, education and support services. The company serves healthcare systems, services parts, third-party logistics, retail and general wholesale distribution industries. Geographically, it derives a majority of revenue from the United States and also has a presence in Canada and Other Countries. Its only operating segment being the development and marketing of enterprise-wide distribution software and related services.
Investment Thesis
This small cap has much capital gain potential but a prospective investor should brace themselves for a roller coaster ride. TCS offers crucial supply chain management software for any ecommerce business. Considering delivery fees and the fierce competition in the retail world, optimizing the supply chain is a key element for any business shipping goods. Tecsys also helps large customers with complex distribution centers or in the healthcare business. With an only 15% market share of the healthcare market, there would appear to be much potential growth in that market. With over 1,000 customers and about half of their revenue coming from recurring contracts, TCS is building a strong foundation for its future growth. We like how annual recurring revenue (ARR) grows constantly and how TCS uses cross-selling techniques to obtain a net retention rate above 100% year after year.
There are better opportunities on the Canadian market…
There are great stocks to buy in the tech sector, but there is more on the Canadian market! Moose Markets presents you with the Canadian Dividend Rock Stars list: a selection of Canadian companies showing both income and growth. The Canadian Rock Stars List is a selection of the safest dividend stocks in Canada. Download the list for free here:

The Complete list of Canadian Tech Stocks
If you are really curious, we have made a list of all tech stocks trading on the TSX. We have taken down the Canadian tech stocks with a market cap under $100M to make your research easier.
| | | | | | |
| --- | --- | --- | --- | --- | --- |
| Symbol | Name | Industry | Market Cap | YTDReturns | Dvd Yield |
| SHOP.TO | Shopify Inc | Software – App |                61,047 | -72.37% | 0.00% |
| CSU.TO | Constellation Software | Software – App |                46,092 | -7.20% | 0.24% |
| GIB.A.TO | CGI Inc | Info Tech Services |                26,476 | -0.85% | 0.00% |
| OTEX.TO | Open Text Corp | Software – App |                13,683 | -14.65% | 2.21% |
| CDAY.TO | Ceridian HCM Holding | Software – App |                13,374 | -33.91% | 0.00% |
| TIXT.TO | TELUS International | Software – Infra |                10,627 | -4.43% | 0.00% |
| DSG.TO | The Descartes Systems | Software – App |                  7,843 | -11.58% | 0.00% |
| NVEI.TO | Nuvei Corp | Software – Infra |                  6,283 | -45.77% | 0.00% |
| BB.TO | BlackBerry Ltd | Software – Infra |                  5,068 | -25.72% | 0.00% |
| KXS.TO | Kinaxis Inc | Software – App |                  4,539 | -7.28% | 0.00% |
| LSPD.TO | Lightspeed Commerce | Software – App |                  3,986 | -47.51% | 0.00% |
| MAXR.TO | Maxar Technologies Inc | Communication Equip |                  2,527 | -8.85% | 0.15% |
| LWRK.TO | LifeWorks Inc | Software – App |                  2,251 | 29.28% | 2.41% |
| ENGH.TO | Enghouse Systems Ltd | Software – App |                  1,843 | -30.51% | 2.08% |
| CLS.TO | Celestica Inc | Electronic Components |                  1,795 | 3.33% | 0.00% |
| SW.TO | Sierra Wireless Inc | Communication Equip |                  1,546 | 77.89% | 0.00% |
| CTS.TO | Converge Tech Solutions | Info Tech Services |                  1,500 | -35.79% | 0.00% |
| DCBO.TO | Docebo Inc | Software – App |                  1,456 | -47.87% | 0.00% |
| SFTC.TO | Softchoice Corp | Info Tech Services |                  1,299 | 4.29% | 0.00% |
| DND.TO | Dye & Durham Ltd | Software – Infra |                  1,220 | -60.61% | 0.42% |
| IE.TO | Ivanhoe Electric Inc | Software – App |                  1,185 | -8.86% | 0.00% |
| ET.TO | Evertz Technologies Ltd | Communication Equip |                  1,096 | 12.17% | 5.01% |
| CVO.TO | Coveo Solutions Inc | Software – Infra |                      769 | -55.27% | 0.00% |
| TC.TO | Tucows Inc | Software – Infra |                      747 | -34.68% | 0.00% |
| ABST.TO | Absolute Software | Software – App |                      684 | 15.50% | 2.39% |
| TCS.TO | Tecsys Inc | Software – App |                      527 | -30.96% | 0.76% |
| CPLF.TO | Copperleaf Technologies | Software – Infra |                      474 | -71.66% | 0.00% |
| REAL.TO | Real Matters Inc | Software – App |                      427 | -29.40% | 0.00% |
| VCM.TO | Vecima Networks Inc | Communication Equip |                      409 | 24.54% | 1.24% |
| CMG.TO | Computer Modelling | Software – App |                      372 | 10.85% | 4.32% |
| EINC.TO | E Automotive Inc | Software – App |                      327 | -62.58% | 0.00% |
| MAGT.TO | Magnet Forensics Inc | Software – App |                      296 | -24.70% | 0.00% |
| ALYA.TO | Alithya Group Inc | Info Tech Services |                      281 | -8.02% | 0.00% |
| STC.TO | Sangoma Technologies | Software – Infra |                      263 | -43.68% | 0.00% |
| PAY.TO | Payfare Inc | Software – Infra |                      225 | -42.65% | 0.00% |
| QTRH.TO | Quarterhill Inc | Communication Equip |                      217 | -28.77% | 2.63% |
| TSAT.TO | Telesat Corp | Communication Equip |                      194 | -56.42% | 0.00% |
| QFOR.TO | Q4 Inc | Software – App |                      178 | -47.06% | 0.00% |
| SYZ.TO | Sylogist Ltd | Software – App |                      173 | -42.12% | 6.90% |
| THNC.TO | Thinkific Labs Inc | Software – App |                      158 | -77.67% | 0.00% |
| HAI.TO | Haivision Systems Inc | Software – Infra |                      151 | -24.86% | 0.00% |