My buy list for October 2023 has a new entry: Canadian National Railway (CNR.TO /CNI). I just love buying Canadian National Railway when the market expects a recession!
Railways are incredibly stable because there aren't any other assets that can replace them in North America. Yet each time transportation volumes go down, the market tends to sell them off. It happened last in 2016, and we highlighted CNR.TO / CNI back then as well. Here we go for another round!

Canadian National Railway has been known as "best-in-class" for operating ratios for many years. CNR continuously worked on improving its margins and was among the first to do so. Today, peers have caught up and all railways are managed the same way.
CNR's transportation activities are well diversified across seven different industries. Its exclusive access to the Prince Rupert port is advantageous for intermodal transportation. CNR enjoys a very strong economic moat as railways are virtually impossible to replicate.
Learn strategies for generating income for life. Download our guide now.
CNR.TO Business Model
A transportation and logistics company, Canadian National Railway's services include rail, intermodal, trucking, and supply chain services. CNR rail services offer equipment, customs brokerage services, transloading and distribution, private car storage, and more.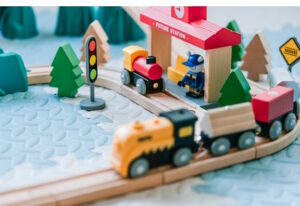 CNR's intermodal container services help shippers expand their door-to-door market reach with about 23 strategically placed intermodal terminals, with services including temperature-controlled cargo, port partnerships, logistics park, moving grain in containers, custom brokerage, transloading and distribution, and others.
CNR's trucking services include door-to-door service, import and export dray, interline services, and specialized services. Its supply chain services offer comprehensive services across a range of industries and product types. CNR transports more than 300 million tons of natural resources, manufactured products, and finished goods throughout North America every year.
Investment Thesis       
Canadian National Railway owns unmatched quality railroad assets. With its strong economic moat, we can rely on increasing cash flows each year. There isn't a more efficient way to transport commodities than by train.
The good thing about CNR is that investors can always wait for a down cycle to buy. Since we see railroads as attractive investments, we usually spot the opportune moment. Considering Q2 2023 results, it seems such a moment is here.
Learn strategies for generating income for life. Download our guide now.
CNR.TO Last Quarter and Recent Activities
With its Q2 results Canadian National Railway sent a strong signal that the economy is slowing down with revenue down 7% and EPS down 8% for the quarter. Revenue decreased mostly because of lower volumes of intermodal, crude oil, U.S. grain exports, and forest products. Volumes shrunk as demand for freight services to move consumer goods lowered and Canadian wildfires caused customer outages.
Rounding up the reasons for the decline were lower ancillary services including container storage, and lower fuel surcharge revenues as fuel prices decreased. CNR updated its full-year outlook, now expects flat to slightly negative year-over-year growth in adjusted EPS.
Potential Risks for CNR.TO
Railroad maintenance is capital intensive and could adversely affect CNR in the future. It's a difficult balance to obtain an efficient operating ratio and well-maintained railroads. To maintain its network, CNR must make substantial reinvestments continually. However, CNR continues to boast one of the best operating ratios in the industry.
From time to time, CNR's growth can be negatively affected by its dependence on the Canadian resource markets. When demand for oil, forest, or grain products is low, demand for CNR's services obviously slows down accordingly. For example, the pandemic caused a slowdown in weekly rail traffic of about 10% over the summer of 2020. As you can see in the graph below, even that didn't derail (couldn't resist) CNR's revenue much or for very long.

When the oil price is low, trucking steers some business away from railroads. CNR is a captive of its best assets since you can't move railroads!
Get acquainted with other great Canadian stocks, read Canadian Forever Stock Selection.
CNR Dividend Growth Perspective
Canadian National Railway has successfully increased its dividend yearly since 1996. The management team ensures they use a good portion of CNR's cash flow to maintain and improve railways, while rewarding shareholders with generous dividend payments. CNR exhibits an impressive dividend record with very low payout ratios. To learn more about payout ratios read this article.

While the business faces headwinds periodically, its dividend payment will not be affected. Shareholders can expect more high single-digit dividend increases. The railroad company kicked off 2023 with an impressive dividend increase of 8%. If you can grab CNR with a yield of approximately 2%, you're making a good deal!
Learn strategies for generating income for life. Download our guide now.
Final Thoughts on Canadian National Railway
Despite CNR's capital-intensive requirements and reliance on the Canadian resource markets, we believe Canadian National Railway will come sailing through the current economic downturn and maintain its dividend increases.
With CNR's unmatched-quality railroad assets almost impossible to replicate, and its management taking on the challenges of the current environment, we could see more growth emerging from all this. Also, CNR will benefit from the cancellation of the Keystone XL pipeline which will drive demand for oil transport via railroads. With a current yield above 2%, CNR is definitely worth a look.