Norbert's Gambit strategy is the most effective way to convert CAD to USD (Canadian Dollar to U.S. Dollar) or vice versa without paying expensive Canadian banks' conversion fees. In this article, I'll show you how I save ~2% on all my conversion fees with Norbert's Gambit strategy. This currency conversion technique is:
#1 Risk-free, you don't assume any costs or risk doing it.
#2 Easy to understand and easy to apply. You only need a few minutes and an online brokerage account.
#3 Working all the time. What you do with Norbert's Gambit is that you cut the middleman. You just save fees you shouldn't pay in the first place!
How to convert CAD to USD
You may want to convert some of your loonies into U.S. dollars for a trip to California or you think it's better off to invest a part of your money in the U.S. market (and you are right doing so). In both cases, you will need to convert your CAD into USD at your bank or a currency exchange office.
Once you get to the counter, the agent will wrongly tell you there are no fees in converting money into another currency. The conversion fee is hidden in the rate you get. You don't believe it? try this trick:
If you pull out your phone and Google "CAD to USD", you will get a completely different rate than what you are offered at the counter.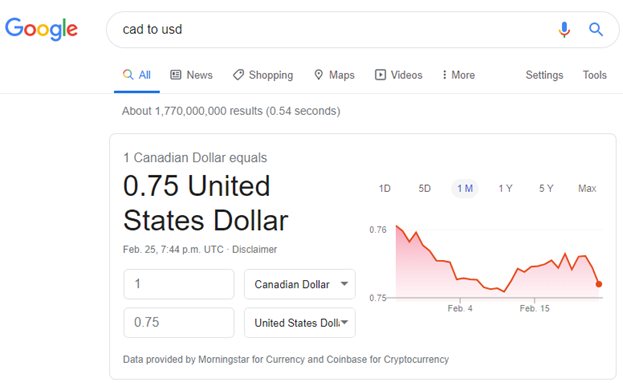 It's only normal that your bank or the currency exchange agent offers you a conversion rate between 1.5% to 3% lower than the real one. This is how they make the transaction profitable for them.
Now I know you are frustrated because you just realize your banker kept money in his pocket each time you bought U.S. dollars (or worst, when you got hit twice if you converted back the money you didn't use during your trip!). There is good news, someone found a way for you to save fees. His name is Norbert Schlenker.
What's Norbert's Gambit Strategy?
A financial advisor named Norbert Schlenker from Libra Investment Management, a B.C. investment firm found a solution for his clients. According to the online "legend", this creative advisor established a strategy to skip the middleman and not pay conversion fees. Here's how it works:
Some companies trade on both Canadian and U.S. stock markets. You can think of Canadian Banks for example. Therefore, if you purchase shares of Royal Bank (RY.TO) through your online brokerage account, you can then call your broker and ask him to journal (transfer) the shares over to the same listing in the foreign currency, at the market exchange rate, and then sell the shares in the currency you want to end up with.
This strategy would convert money invested in Canadian dollars in Royal Bank shares into U.S. dollars once you sold the same shares on the U.S. markets. The only fee paid would be the one charged on the buy and sell transactions. Depending on the amount converted, the transaction fee would be minimal.
Now that this strategy has been spread around Canadians, there are cheaper ways to apply Norbert's Gambit strategy. Here's how I convert my CAD to USD or vice versa:
How to Use Horizons US Dollar Currency ETF (DLR and DLR.U) to Convert Your Currency
The stock market is filled with great minds ready to make a buck on a good idea! This is how Horizons created two ETFs which sole purpose is to be used to convert CAD and USD.
Horizons US Dollar Currency ETF (DLR.TO)
Horizons US Dollar Currency ETF (DLR.U.TO)
Therefore, whenever you want to convert Canadian dollars into U.S. dollars, you can do it without paying any conversion fees!
First, you must first open two non-registered online brokerage account: One in Canadian dollar and the other one in U.S. dollar. You can open them within literally 15 minutes with Questrade (watch my step-by-step tutorial). You must also have two bank accounts (one in CAD and the other one in USD).
Your CAD bank account must be linked to your online CAD non-registered brokerage account. Same for your USD accounts.
Can I use Norbert's Gambit with my RRSP?
I've received this question many times: "Can I use Norbert's Gambit to transfer CAD into USD in my RRSP account or does this strategy only works with non-registered accounts?"
You can use Norbert's Gambit with an RRSP account. The principle is the same: you would need a CAD and a USD account and you follow the steps explained in this article. The only difference is that you don't withdraw the money from the account at the end (you use your CAD to buy American stocks in your USD account for example). Keep in mind that dividends paid by US-based companies remain tax-free in an RRSP (as opposed to a withholding tax of 15% applied on dividends paid by a US-based company in a TFSA account).
You can also use Canadian Depositary Receipts (CDRs) to buy US stocks with a currency hedge.
Then, follow these steps to convert CAD to USD with no fees
#1 Transfer your money into your non-registered online brokerage account in Canadian dollar.
#2 Buy DLR.TO for the amount you wish to convert. DLR.TO trades like any other ETFs, you simply buy the number of shares times the price. For example, DRL.TO trades at $13.45 and you wish to convert $1,345. You will then buy $1,345 / 13.45 = 100 shares of DLR.TO.
Wait for the transaction to settle. This is the same process for any stock transactions.
#3 Transfer your position from DLR.TO to DLR.U.TO. Many brokerage services allow you to do it online. Some others will request a call or an online message through their contact form. The broker will give you exactly 100 shares of DLR.U.TO at a price in U.S. currency.
#4 Go in your U.S. non-registered account and sell your shares of DLR.U.TO
#5 Transfer your U.S. Dollar into your U.S. bank account.
Voila!
If you want to transfer USD into CAD you simply follow the exact same steps, but start with your U.S. account and buy DLR.U.TO first.
Please note the conversion could take about 5 to 6 business days between the time you send your money to your brokerage account and you receive it back in the other currency.
Norbert's Gambit Real-Life Example
You may wonder if it's worth your time to open two brokerage accounts and wait a few days for both transactions to settle right? I ask myself the very same question. Here are real my results using a transaction of transferring $7,003.04 USD into CAD in my business account (my business made sales in U.S. dollars and I needed to convert it into Canadian dollars).
First, I went to my U.S. bank account and tried to convert a small USD amount into CAD to see the rate. As you can see, the rate offered was 1.3003 (while they clearly show the real rate at 1.3254 at the bottom of the page).


I decided to skip the middleman and applied the Norbert's Gambit strategy: I then sent my $7,000 USD into my USD online brokerage account on February 12th 2020 and bought 692 shares of DLR.U.TO and I waited.

A couple of days later, I called my broker and ask to transfer those 692 shares of DLR.U.TO into 692 shares of DLR.TO in my Canadian dollar brokerage account. That was literally a 2 minutes call.
The same day, my Canadian account shows 692 shares of DLR.TO for the amount of $9,265.88.
I waited again for the transaction to settle and I sold my 692 shares a few days later. I then have the total amount transferred to my Canadian dollar business bank account.
On February 20th 2020, I had $9,265.88 deposited in my bank account showing a conversion rate of 1.3231 on my money (7,003.04 * 1.3231 = ~$9,265.88). If I had called my bank to convert on February 20th, they would have given me $1.2996 for each dollar. That's a difference of 2.35% or $164.73.

Norbert's Gambit takes a few days to operate
As you can see in my example, the conversion is not done instantly. This is probably the strategy's biggest drawback. In times of high volatility, this is not ideal. You could be waiting and the currency you want could increase by 2% in a single day. On the other side, the 2% you save on the conversion rate makes a solid margin of safety.
Final thoughts
As a business owner, you can guess that I have to use Norbert's Gambit on a regular basis to change my money from USD to CAD.
So far, it has paid off to save roughly 2.3% on each currency conversion.
I haven't run into any major problems and I'm glad to keep saving so much money in currency conversion! What about you? Did you ever used Norbert's Gambit?